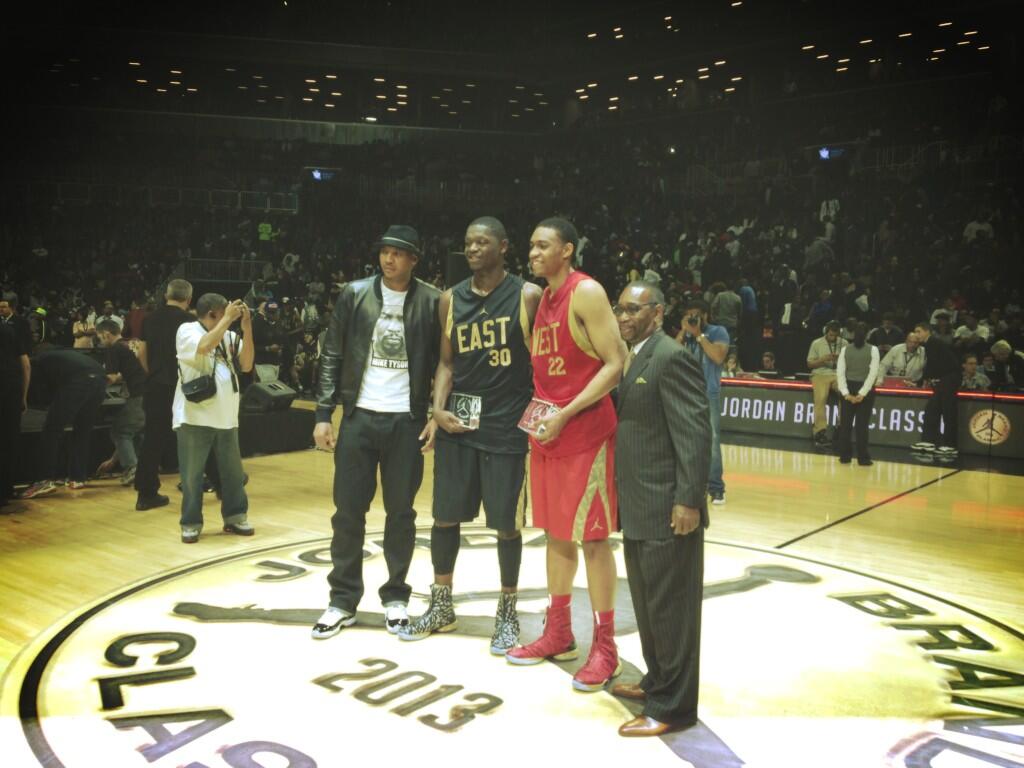 NEW YORK — Eleven years after they played in the Jordan Brand Classic at the MCI Center in Washington, D.C., Carmelo Anthony and Amar'e Stoudemire sat courtside at Barclays Center to watch the next generation of future NBA stars on display in the 2013 Jordan Classic.
The two Knicks stars were joined by a star-studded group that included teammate J.R. Smith, C.C. Sabathia, Spike Lee, Worldwide Wes and Drake, who later performed a concert. Michael Jordan himself sat up in the stands, but was not allowed to meet the players because he's an NBA owner and rules prohibit it.
"I was just impressed," Anthony, whose Knicks have won 14 of 15 entering Sunday's game against the Indiana Pacers, told SheridanHoops.com after the West beat the East, 102-98.
"I know when I was in high school we wasn't as big as these guys today, man. They look like they're in the gym already in the weight room and things like that. They're already one step ahead."
Julius Randle, the MVP of the East team who is headed to Kentucky next year along with five other All-Americans, said of the Knicks' stars: "Those are just two players you grow up idolizing so to have them courtside was huge."
"Playing in front of Michael Jordan, Melo, Drake, Amar'e Stoudemire, Busta Rhymes, it's been a blessing playing in front of them. I appreciate that they came to watch high school players play. I think that's big on their part," Canadian star Andrew Wiggins told Drew Ebanks of OnPointBasketball.com.
The game featured six future Kentucky Wildcats and five of the top 10 projected picks in the 2014 NBA Draft, according to DraftExpress.com: No. 1 Wiggins (uncommitted), No. 2 Randle (Kentucky), No. 3 Aaron Gordon (Arizona), No. 4 Andrew Harrison (Kentucky) and No. 8 Aaron Harrison (Kentucky).
The 6-foot-8 Duke-bound Jabari Parker was named MVP of the West after going for 16 points and seven rebounds, although Washington-bound point guard Nigel Williams-Goss could have easily won it after posting 17 points and four assists, including the game-deciding steal, layup and three-point play.
The 6-9 Randle received MVP of the East after putting up 19 points and seven boards. Wiggins added 19 points and five rebounds for the East, Florida commit Chris Walker added 14 points and seven rebounds and Syracuse-bound point guard Tyler Ennis went for 14 points, six assists, five rebounds and four steals.
Wiggins remains undecided on his future and will announce — at some yet-to-be-named point and probably via Twitter — for Kentucky, Kansas, North Carolina or Florida State.
At one point in the first half, Wiggins threw Randle an alley oop pass that had to have Kentucky coach John Calipari and Wildcats fans imagining similar highlight-reel plays next year in Lexington.
Asked if he had gotten in Wiggins' ear about joining the group at Kentucky, Randle said, "I tried my best, but you know it's on him and I wish nothing but the best for him.
"He threw a great pass in the first half and he's a great player so he makes the game easier on me because when you have another great player like that on the floor it kind of spaces things out. So it was fun playing with him in these two All-Star Games and I look forward to competing against him next week in the Hoop Summit."
Wiggins said he enjoyed playing with Randle and against Parker.
"A lot of people think basketball players are cocky and big-headed," he said. "They're two of the highest-rated players in America and they're so down to earth and level-headed. We're all friends. We all treat each other like family, so it's all good."
Both Anthony and Stoudemire said they were impressed by Wiggins.
"He's good," Stoudemire said. "He showed athleticism out there on the court. He showed great patience also. He's going to be really good."
The injured Knicks star also said he was impressed by Walker, Randle and Parker.
"Those guys, they're great, man," Stoudemire said.
Anthony said he first saw Wiggins play last summer when Team USA trained in Las Vegas and the Canadian star played there.
Asked if Wiggins could make an immediate impact in the NBA, Anthony said: "It takes time. I wish him the best. Next year if he do what he gotta do and he's ready to make that step, then more power to him. I support his decision."
Kentucky may well have the greatest class in the history of recruiting, but adding Wiggins to the group that includes Randle, the Harrisons, James Young, Marcus Lee and Dakari Johnson would only put it over the top.
For his part, Randle said this week that being with his future teammates helps them bond for the future, when they will be favored to win a national championship in 2014.
"It's fun to have those guys on the court with me," Randle said. "It's kind of like we're starting our relationship for next year and we're bonding. So it's going to be fun next year for sure and we're going to work hard, we're going to do our best to make the season as great as we want it to be. To have those five guys here was amazing."
Let the record reflect that in the 2002 Jordan Game, Anthony went for 27 points but his team lost, 167-121. Stoudemire went off for 23 points and 17 rebounds in the win.
"The class I was on in 2002, maybe 11 guys went to the pros from that class from that game, so hopefully that happens here tonight again," Stoudemire said.
Photos: Kelly Kline / Jordan Brand
Adam Zagoria of Zags Blog covers the future stars of the NBA for SheridanHoops.com. Follow him on Twitter at @AdamZagoria.